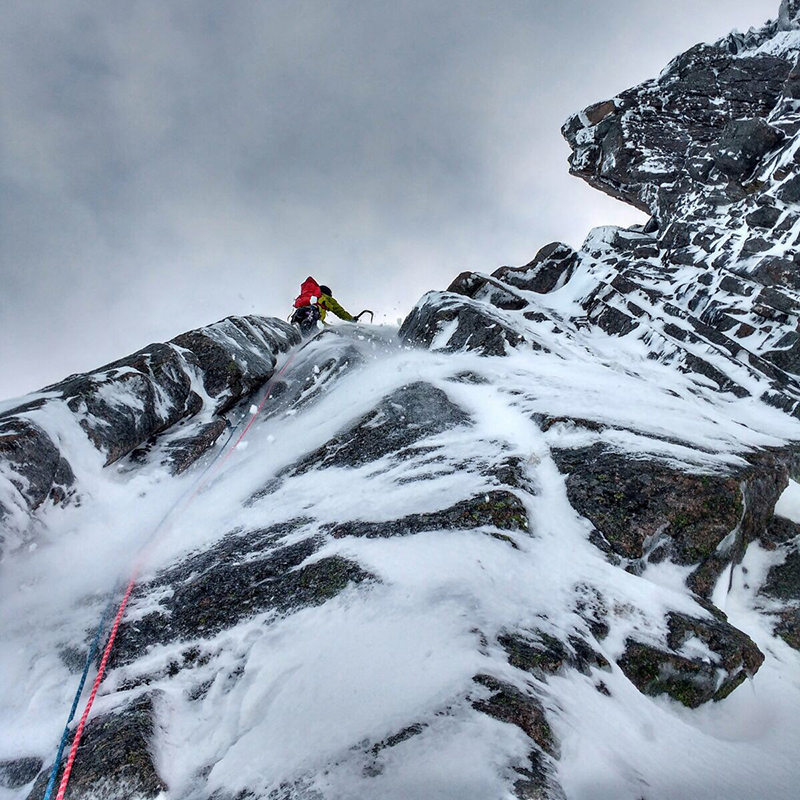 Rhys Deane
23 years old, Climber, Alpinist, Ultra Runner And World Record Holding Ocean Rower 
Currently living on the West Coast of Scotland – a prime location for mountaineering, being sandwiched between Glencoe and Ben Nevis, home to some of the best summer and winter climbing the UK has to offer.
I took the plunge to relocate from my sweeping Exmoor homeland to mountainous Glencoe in Jan 2018 in order to further my mountaineering dreams, with the plan of 'van-lifeing' the winter season in the Highlands to afford the best of the Scottish winter climbing. From the offset I knew it was going to be incredibly tough, living in a van in sub zero conditions for an extended period of time and coping with lack of heat and drying facilities. I fully realised that van-life in a Ford Transit in the Highlands in January is about as far removed as imaginable from the air brushed, sun kissed, Californian instagramers that pepper our feeds!
Van life was definitely not all plain sailing, as within the first month of living in Scotland I had moved home 3 times and disposed of 2 vans in the process! I converted a van in Devon for my new mountaineering lifestyle, however it sadly past when the engine blew up on the drive North! Beyond economic repair, my van was no longer a mobile home and more closely resembled a static caravan. So to make the best out of a bad situation, the Deane Machine was towed to the Ben Nevis Carpark for me to be able to continue climbing. As the battery began to drain and the lights dimmed, I realised that this was not a sustainable solution, and in desperation I posted on a climbing forum explaining my predicament of having no home or transport.
An amazing stroke of good fortune happened from a complete stranger, who immediately replied offering me his motorhome to live in for 3 months in exchange for some climbing tuition. I was completely dumb struck and touched for such a generous and kind offer from a complete stranger. He told me "You just seemed like a good guy in need, and it was as simple as that!"
As I headed back to the Cairngorms in my newly borrowed van I felt on top of the world! The dark clouds had lifted and I beamed from ear to ear! The new van was a huge upgrade in every way possible complete with fridge, heater, oven, sink and even a flat screen TV! What more could a dirt bag dream of!
Climbing
Climbing experience:
2 summer seasons spent in the French/ Italian Alps

2 Scottish winter seasons based on the west coast 

Ice climbing trip to Rjukan Norway – climbing water ice cascades.

Rock climbing across the UK – In particular the Sea cliffs in the SW of England and mountain crags of Scotland
Most challenging climbing experience – 2017-  Abseiling 1,000m off varying quality abalakovs off the North face of Aiguille Verte (Chamonix) all through the night, reaching the bivvy gear on the glacier at 4am and realising that we'd run out of gas and therefore had no water or food to keep us going through our open bivvy on the glacier.
Most memorable climbing experience to date:
Straddling the summit of Grand Capucin (granite tower on the side of Mont Blanc), completely and utterly spent, sat in awe watching the setting sun over the massif with tears in my eyes. This was a stand out moment for me as it was my first major alpine climb. Before undertaking the Swiss Route it seemed like a pipe dream, one that was far beyond both myself and my partner's capabilities, though undertaking the climb it taught me that anything is possible and that any challenge (no matter how unimaginable) can be overcome with grit and determination and the ability to be prepared to fail.
Favourite discipline:
My most loved style of climbing would have to be Scottish winter! For me climbing is all about having a battle and good old fashioned adventure. Scotland's ferocious weather, remote and hard to reach climbs and strict ethics of only using natural protection, always make for testing and rewarding days out!
Future climbing aspirations:
In the future I see myself being drawn to the greater ranges such as The Himalaya and Andes! I can see my passion and love of running really benefiting me when operating in a high altitude environment where a high level of aerobic fitness and stamina are essential.
I hope to be an IFMGA mountain guide so that I can guide people anywhere in the world!
Ultra running
Running experience:
I have completed two ultra marathons and one marathon. My best result to date would have to be finishing second in the Glencoe Ultra marathon (45km 2,400 elevation gain)
Although I love to compete, in training I love to study maps and seek out inspiring ridge lines and remote glens, then set out for long, mountain cross country days and try out the new route.
Running aspirations:
In 2019 I hope to enter the Glencoe Skyline as it will play to my strengths of moving over technical mountainous terrain quickly and efficiently.
In 2020 I want to compete in a 100 mile race
Ocean rowing
UK circumnavigation
In the summer of 2017 I became the world record holder for the youngest man to row around GB. The challenge was both unaided and unsupported meaning we didn't touch land and carried all our own supplies. The circumnavigation took us 38 days, enduring all the hardships of living aboard an ocean rowing boat for an extended period of time.
As a crew of 4, we rowing in teams of 2 on an hour on hour off rest/shift pattern each rowing for 12 hours a day and had a maximum rest of 1 hour. Due to the high levels of exertion and being on reduced rations, I lost over 17kg in weight.
The most comical part of the expedition for me was encountering some incredibly vivid hallucinations as a result of the sleep deprivation. The stand out one for me would have to be having a conversation with a 2ft high man, with one arm dressed like Gandhi. The apparition told me that he was going to the toilet off the front of the boat, when he went out of sight I became concerned that he might fall in and drown, so raised the alarm with the captain. After explaining the situation to Jez he laughed and explained that I was hallucinating!
Future rowing aspirations:
In the future I hope to row solo across the Atlantic. I am fascinated by the idea of solitude and being solely dependent on yourself.